Below is a video of my Greater Green Leafbird.

It is presently molting and it is not in good form. However it is still singing and whilst the video does not show the GGLB's range and variety of song, it does give some indication of its song type.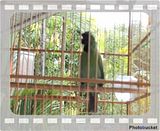 When keeping juvenile male shamas, it is important that they have exposure to the songs of adult shamas so that they can develop their full song potential. If possible, they should also hear other song birds as they would in the jungle.

In addition to the songs of my shamas, my juvenile shamas are exposed to the birds that frequent my garden. These include a pair of magpie-robins, golden orioles whose song I find pleasant, mynahs, red-whiskered bulbul, yellow-vented bulbul, etc. From time to time, I may also keep songbirds such as the GGLb, Orange-headed Ground Thrush, Chestnut Thrush etc.