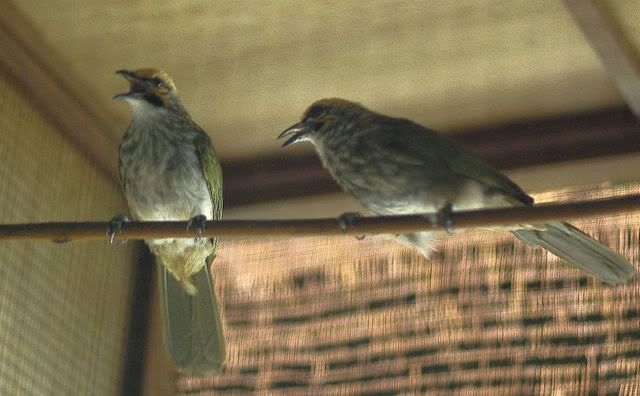 Posted: Sun May 27, 2007 7:36 pm Post subject: Re: Straw Headed Bulbul
Hello David, nice birds these SH Bulbuuls (Cucak Rawa) are they yours? They looks beautifull and in a good condition.
And did you breed whit these birds?.......they are mine favourite birds.....but for the last time they where imported is more than 20 years ago, i bought one i kept him for 8 years, i search in whole Europe for these birds but with no succes.
Regards Poksay= Frenkie
Posted: Sun May 27, 2007 8:10 pm Post subject:
--------------------------------------------------------------------------------
Hi Frenkie,
The SH Bulbuls are mine. I got them about 2 weeks ago. I had been looking for a pair for quite some time to teach their songs to my shamas. My shama, Icon, sings the SH Bulbul's songs that he learnt after listening to them only once when I took him to the nature reserve. I presently have no intention to breed them.
I suppose you know that the SH Bulbul should be kept in pairs as they tend to sing in response to each other. It is not difficult to find them in the bird shops in Singapore. The difficulty is to get a matched pair that also has variety of song. Most SH Bulbuls sing a melodious but monotonously repetitive song. It reminds me of church bells.
The pair that I have is in tip-top condition. I was told that the previous owner had kept them for 2 years but they sure didn't look like it. They are wild. I have placed them in an aviary and, because I have been busy, have not spent any time trying to tame them. However, they have noticeably calmed down and no longer panic each time someone approaches the aviary. From now, I expect that they should tame quite quickly.
I was also told that my pair has great variety of song but this is something I still have to discover. I have heard them sing but not enough to know how good their song is.
In addition to the SH Bulbul, I also have a Greater Green Leafbird that I borrowed to teach his songs to my shamas. He has started to sing well. I wanted to video him but my camcorder is faulty. I will send it for repair tomorrow and hope that I can get it back by next weekend though I doubt it.
David
Posted: Mon May 28, 2007 7:59 am Post subject:
--------------------------------------------------------------------------------
Hi David,
Now can Icon extend his reportoire, yes i know David that you must kept the SH Bulbulls in pair for their song, i also bought 2 SHB`s but 1 was not in a very good condition, i have not much choise at that time the bird shop hat only 2 shb`s, and a few days later the bird died, but with the remained bird I had much luck David,he hat lets hear his splentid melodieuse song.
I am little bit jealous David , that you can still buy the best song birds there, here we must do with what we have.
And that your birds are in top condition that for sure the birds looks good, maby the previous owner kept them also in a wide aviary and for this reason they are still wild.
Some shama people wont any other birds around their shama`s, they afraid for their song they will be imitated from other birds,my shama`s have grown up with whamei, poksay`s and leafbirds their song is differing then other shama`s.
and I am a lot curiously to the video of the GG leafbird David.
Regards Poksay>Frenkie
Posted: Mon May 28, 2007 11:17 am Post subject:
--------------------------------------------------------------------------------
Hi Uncle David and Poksay,
Why must we keep SH as a pair? are we refering to male and female here or both males in one aviary say in this case. your SH looks good i must say but my knowledge of such songbirds GGLB included is below average and i'm having difficulty in taking good care and maintain my GGLB in tip top condition...although mine will sings all day with variety of songs learned through out the months spent at my home. there are shops in Singapore that sells SH..a few in Bedok i saw the other time...but condition not so good. ok all the best...let's see what those SH got in store for us.
Taufik.
Posted: Mon May 28, 2007 12:41 pm Post subject:
--------------------------------------------------------------------------------
Few fact about Straw-headed Bulbul (SHB)
1. It is good to keep wild SHBs because they have original songs of the wild.
2. The songs of a couple SHBs are different from another couple. There is similarity. You need to listen carefully.
3. A couple in a cage or aviary, does not always be a male and female. It can be siblings. (brother and brother or sister and sister)
4. A female can lay eggs without the present of a male. I have one at home that lays egg.
5. A SHB can imitate the songs of another bird but not as good as a Shama.
6. SHB is the most expensive song bird in Indonesia but not in Brunei, Shama is still the most expensive. A newly wild caught SHB has the value of $50 to $100 (before was $100-$150).There are a few SHBs left in Brunei.
7. Why we need to keep as a pair? Because a pair will sing together and produce beautiful brilliant songs just like 2 pianists play on one piano.
Irwan