This is Cochise. He was bred by my good friend, Michael Leong, this year from Apache and SuperModel's daughter.
The first 2 photographs show Cochise as a juvenile, half-way through his body molt with the feathers on his head still having to grow. His very good character and structure are already evident.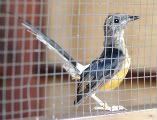 Another photograph of Cochise
The photographs below show Cochisle after his body feathers have changed. At this young age, it can already be seen that he is dominant.
[last 2 photos taken by Justin Chua]