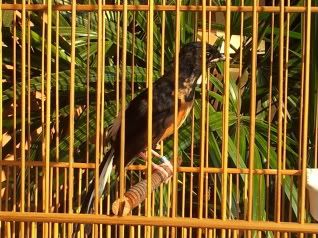 I receive many requests to buy my shamas and it may be of help if I set out the letter that I write in response to a general inquiry.
Hi
Thank you for your interest in my shamas.
I keep shamas as a hobby and may breed only a few pairs each year.
My aim is to produce birds of outstanding quality - with excellent structure, strong character, musical song, and primary tails that are at least 12".
Such birds are rare and are much sought after. They are hardly ever found any more in the wild.
It has taken many years to develop my present strain of shamas. I would discourage beginners from keeping such birds. They are more difficult to keep in perfect condition because of their long tails and they cost many times more than the shamas available from the shops.
My excess males usually go to friends and I hardly have birds for sale - perhaps 3 to 6 juveniles a year. Last year, I had no juveniles available for sale.
The price of a male juvenile, if available, is from S$3,500.00 to more than S$4,500.00. To put things in perspective, I recently paid S$7,000.00 for a captive-bred first molt male shama with tails of 11.5", and this was supposed to be a special price to me from a fellow breeder.
Because of the scarcity of the type of birds that I try to breed, there is always a waiting list of buyers for my juveniles. If you are still interested and prepared to wait, please let me know your budget and I will get back to you if I have a shama that may meet your requirement.
Best regards,
David