22nd May 2008
Dear Uncle David,
First of all, sorry for disturbing you the whole day and thanks for your advise and your inspiration. I discovered the bird forum since Nov07 and I really respect your dedication.
While sending this email, I had fed the baby bird twice this evening (3 small crickets each time, 7pm & 9:30pm, without head & leg).
As of now, the chick remains nervous and running away from me (hope will get better tomorrow.)
When do you normally start feeding the chick Vit B?
Attached is a photo (sorry for bad photo capture, will send a better shot once the chick stabilises)
BTW, I am compiling some chick photos for my reference from their day 1 hatching to flying off from nest box. I have downloaded most of your chick photos from the forum,
but missing some. Do you have the collection of the photo with 3-4 chick in 1 nest on day 7 to day 10, or from the 1st day that it emerges from the nest box ?
Thanks and good nite. Will keep you updated on the chick's development. Thanks again.
Regards,
XXX
6th June 2008

Dear Uncle David,

First of all, thank you very much for your past &
continuing advise. I really respect your dedication &
passion on Shama breeding.

Now the pair is nesting and the 2nd clutch expected to
hatch on coming Saturday if everything goes well (keep
my figers crossed).

In next breeding season, my priority is to fix the
tail length by line breeding with the father or
cross breeding with another of my 10" Shamas.

Attached is the photo of the parent & the
chick.

Regards,
XXX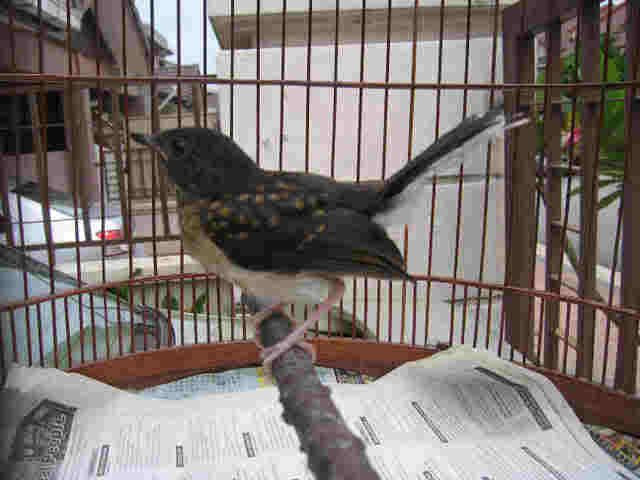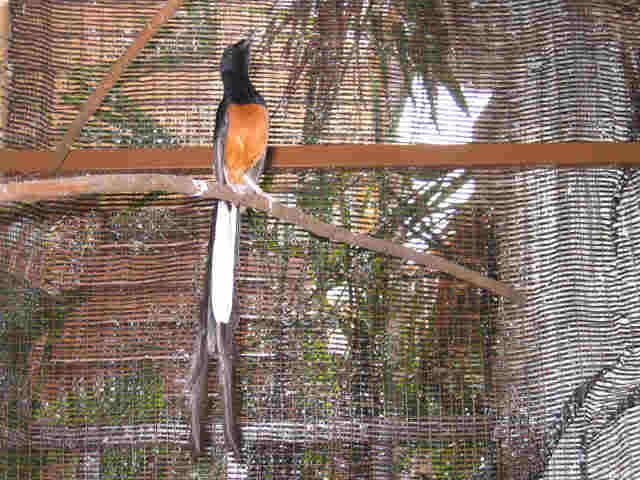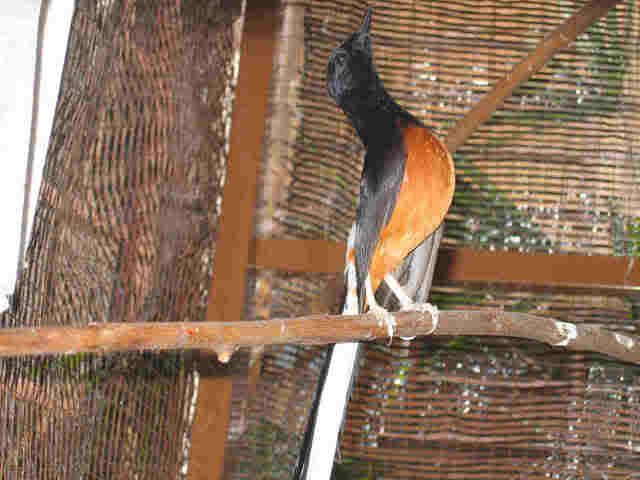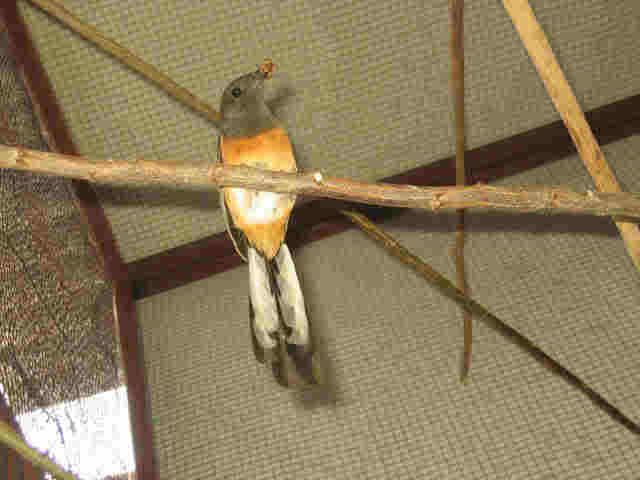 10th June 2008
Hi XXX,

The chick looks nice. It looks like a male but its hard to accurately tell the sex from photos as the colour of the chick will be affected by whether the phtograph is over-exposed.

The father looks wonderful and worth breeding from. I would guess that the tails have the potential to be at least an inch longer if the bird has a proper molt.

Best regards,

David