6th August 2008
Hi Uncle david,

Just to update you about 4th clutch.

One egg shell found on avairy floor yesterday, and I hope to have more today.
As of now, at least 1 chick.

Need your advice. Is it safe to let the female progress with 5th clucth (she looks healthy)or is it risky. Could there be egg-binding problems if she continues. Should I stop them by removing the nest box?

Thanks.

Best Regards,
7th Ausgust 2008

Hi XXX,

I just had 4 chicks in a 5th clutch. I usually stop at 3 clutches but for the Icon pair I decided this year to let them breed as many times as they want. There were 2 reasons for this. Firstly, last year all the 6 males from this pair were very good to excellent so the more chicks I could get from them, the better. Secondly, I am curious to know how many clutches a pair that is in good condition can have in a season.

So far the pair have had 20 chicks or an average of 4 chicks per clutch this season. The pair still look fine and I will let them nest until they molt or until the number of eggs per clutch is reduced below 3.

If the pair receives sufficient calcium in the form of vertebrates, I don't think there will be any problem with egg-binding. I have had no problems although I don't supplement with calcium during the breeding season.

Best regards,

David
7th August 2008

Hi Uncle david,

Wow, congratulations & fantanstic pair. 20 chicks and still continuing!

Looking forward to hear from you that Icon pair can go for 7-8 clutch in a season.

For my 4th clutch, I think only 1 chick hatched & I will remove the nest box after the chick fledges. I may try to let the parents raise the chick.

Best Regards
13th August 2008

Hi Uncle david,

Need your advice. Based on your past experience, what is your assessment on survivor rate by letting parents raise the chick (the risk is I'm out to work and do not know whether the chick is eatting or not during 1st & 2nd day)?. I'm planning to let the parents raise the 4th clutch of chicks. I think there are 2 chicks at 9 days. What is your view?

Best Regards,

XXX
13th August 2008

Hi,

Icon's 5th clutch had 4 chicks (and 1 infertile egg) which I removed for hand-feeding on the evening of the 4th day (5 days ago). The 1st egg of the 6th clutch was laid yesterday. The mother seems to have no problem making and laying eggs.

If you want the parents to look care for the chicks after they leave the nest, make sure there are alot of branches for the chicks to land on. Hard to predict the survival rate. It all depends on whether the chicks injure themselves and then refuse to open their beaks to be fed.

David
13th August 2008

Thanks for our advise too, most likely i will give a try on letting the parent feeding them. ( i have a lot of branches in my aviary now).

Out of curiosity, why you removing the chick from nest so soon? (at 4th day?)

Best Regards,
28th August 2008

BTW, i have attached you my 2nd batched chick at 2 month old for you comment on the structure. so that i can enchance it in 2nd generation.

Best Regards,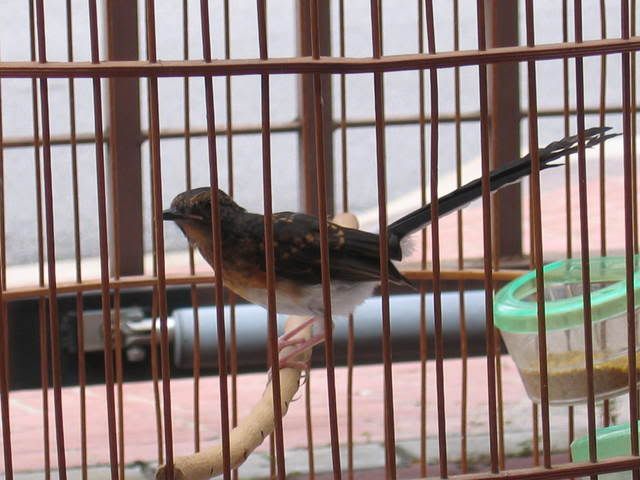 29th August 2008

Hi Uncle David,

May I know the brand of Multivitamin you are using for your Shama?

I'm planning to buy one. I have in mind the Seven-seas brand for children.

Best Regards,
29th August 2008
Hi XXX,

I use the liquid brand of liquid multi-vitamins that I buy from GNC in Singapore. The brand does not really matter. You need to make sure that the expiry date is a long way away.

Best regards,

29th August 2008
Hi XXX,

You have a really nice chick with great promise. The taimong tails seem to be about 5 1/2" or more from the photograph. This is long and I expect that the first molt tails will exceed 10". By the third molt the tails should exceed 12"

May I have your permission to do a write-up of your shama breeding based on your emails to me and post it on my blog.

Best regards,

David
29th August 2008

Dear Uncle David,

I wish your prediction of the tail length will come true (keep the fingers crossed).

Pls feel free to copy of my email thread.

Is my pleasure to contribute to you website. I couldn't start my breeding program without your advice.
Regards,
XXX