Constant attention to improving the character, structure and song of my captive-bred shamas has led to what is likely to be the most promising crop of youngsters this year than I have bred over the years. My friends who have seen my birds and the results of my breeding program over the years also share this view.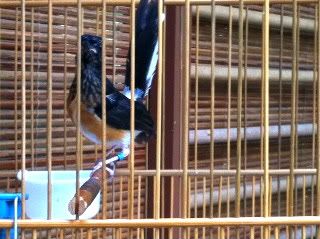 Breeding brings with it the excitement and hope each year of producing that one in a million shama.
Weekends and spare time during the breeding season are enjoyably spent placing the taimong cages together and assessing the birds as I and my friends try to see if there is a special bird and if we can spot it.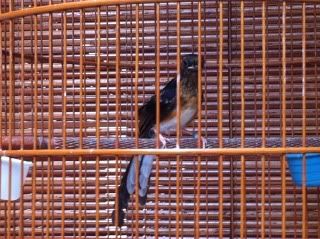 However, nothing is certain with juveniles and what appears ordinary one day may turn out to be the special one on another occasion, perhaps after the molt. That's why I and other serious breeders are so reluctant to part with our juveniles.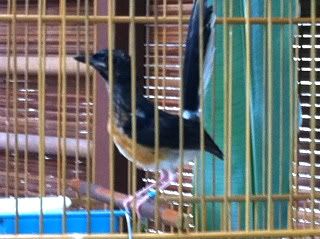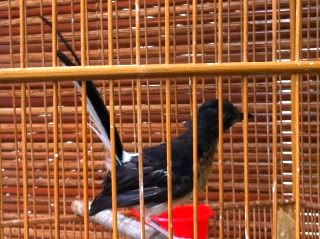 The accompanying photos are the result of assessing some juveniles over the weekend. They added interest to the morning as we passed our time with each person having his personal favourite and exchanging comments over which of the birds is "better" than the others.

The birds look a little scruffy as the body molt has commenced but it may be a month or more before they shed their tails.
For me, I like the juvenile in the 1st, 2nd, 4th, 5th and last photo. As can be seen, he is showy and I took more pictures of him than of his 2 brothers as he tended to pose more readily than them. He shows attitude and if I eventually decide to keep him, I may name him, "Boss".

This is not to say that his 2 brothers are not as "good" as him. It is just that at the weekend, he looked the most promising to me but it may be different next week or in months when his brothers or others may outshine him.
In fact, on Saturday evening, I took along his brother when Jeffrey, Alan and I visited Dr. Sun's home where he had an informal gathering of some shama friends.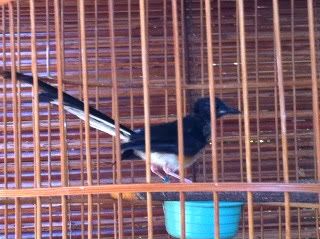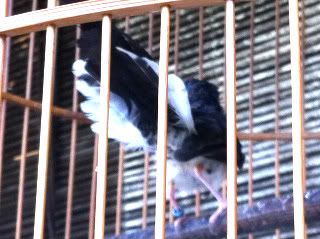 His brother looked really good at Dr. Sun's home and received many favourable comments (6th, 9th and 10th photo). The third juvenile is in photos 3rd, 7th and 8th. I was not able to fully catch his display and the best I could do is what you see in photo no. 8. However, as commented by Jeffrey, "he lifts his tails until they hit his head".
I had caught the birds with a net from their aviary only the day before and they had not had time to settle. I expect there will be more enjoyable weekends when we reconsider our choices and wait impatiently for the juveniles to complete their molt.